7 Panel Swatches:
Read our Swatch Disclaimer:
Color Swatch Disclaimer:
Color swatches displayed on your monitor will vary depending on each individuals monitor settings.

We strive to match colors displayed online to the actual webbing as accurately as possible; however, if you have any concerns about color-matching please call to request up to 8 free color swatches.


Bulk Pricing
| | |
| --- | --- |
| Order Quantity | Price |
| 10 Or More | 33.95 each |
| 25 Or More | 31.95 each |
Measure your seat belt.
Measure the length of your shoulder seat belt.
Measure the total overall length of your seat belt. Remember, you can always adjust down, but if the seat belt is too short you can not adjust up. Overall length of our belts is measured starting at outside bottom mount, across your lap to the buckle, and back across your shoulder to the top mount. We list the maximum extended length of our belts for your reference. If you require a custom longer seat belt we may be able to accommodate your request. Call for details.
Measure your buckle.
Some cars have rigid buckles supported by cables or brackets in order to keep your buckle accessible at the side of your seat. Measure your buckle/receiver before placing an order to ensure your new seat belt buckle will not be too short or too long.
3 Point Seat Belt With Chrome Lift Latch
3 Point Chrome lift latch style seat belt that is popular with vintage vehicles for its classic looks. This seat belt is manually adjustable. Seat belt length can be adjusted by means of a metal slide under the shoulder mount. Manually adjustable seat belts are the perfect solution for vehicles that do not have room for a retractor but still require the added security of a 3-point harness. This style belt is also popular for applications where the same driver will be sitting in the same seat and seat belt does NOT have to be adjusted often. All our belts come with a 1 year warranty against workmanship or defects.
- Adjustable Lap & Shoulder side is 94 Inches maximum length.
- Adjustable Buckle side is 25 Inches maximum length.
- Seat Belt is interchangeable, left or right side.

Product Specs:
The adjustable lap and shoulder webbing is 94 inches total length and is adjustable.
The flexible buckle side is 25 inches in length and is adjustable.
Webbing measures 1 7/8" wide.
Buckle measures roughly 2 3/8" X 2 3/8".
Quantity: Each Seat Belt is sold individually and mounts on either driver or passenger side.
1-year, unlimited-mileage warranty.
Belts are MADE IN THE USA

(with domestic & foreign components)

.
Federally compliant.SAE #J386, FMVSS #209 & FMVSS #302.
Seat Belt Colors & Availability:
►All 3 Point Manually Adjustable Seat Belts feature a
BLACK
shoulder mount cover & chrome metal seat belt hanger. There is no bolt cap for the shoulder cover.
► Black, Dark Blue/Navy, Grey, Maroon, Red, and Tan seat belts come with matching plastic housing and stitching.
►
All other color seat belts will come with black plastic housing and stitching.
► Black, Dark Blue/Navy, Grey, Maroon, Red, and Tan seat belts are in stock. Please allow 2-3 day production time on all other colors.
Additional Images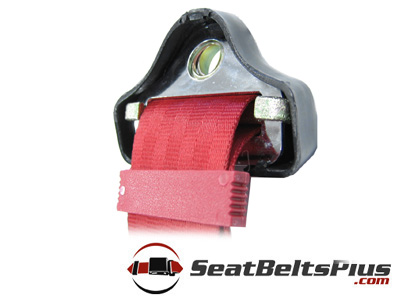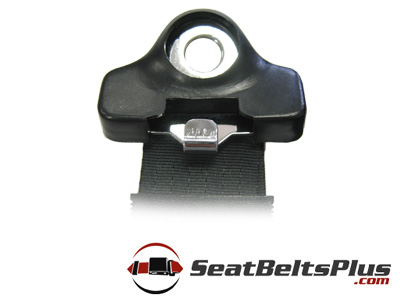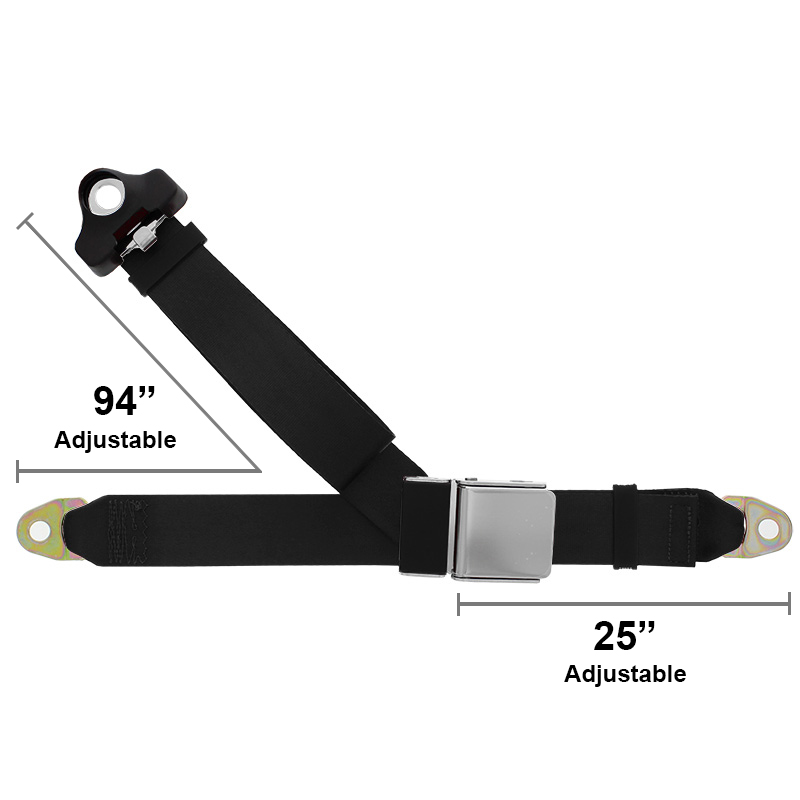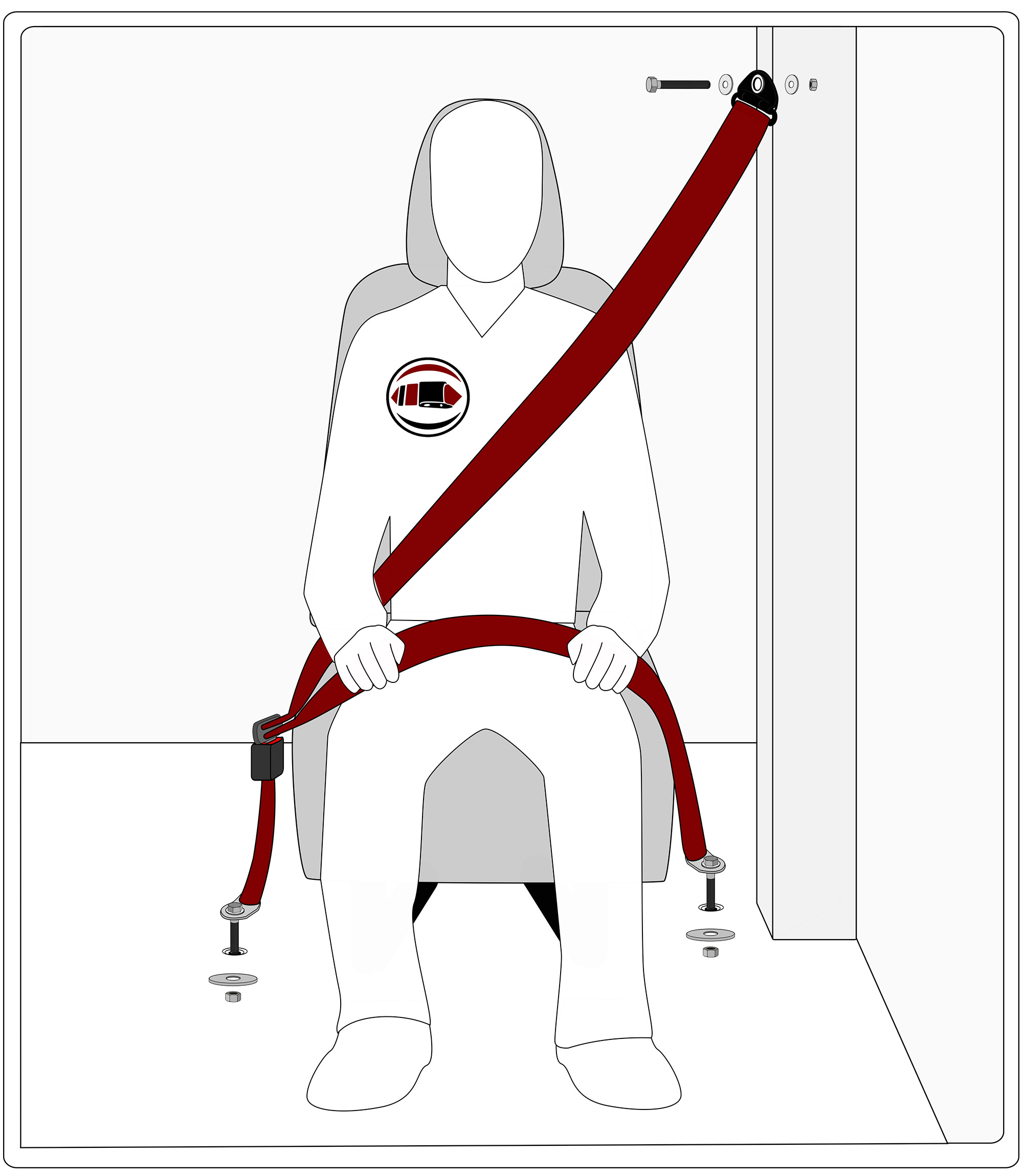 --row-fluid-->
--row-fluid-->
Related Items & Hardware:
Aftermarket Seat Belt Installation:
This product is an Aftermarket seat belt and is NOT an original factory replacement part for any car.
It may not mount exactly the same way as your OEM factory seat belt.
Often installation can be as simple as unbolting your old seat belt and replacing it with our new aftermarket unit. However- it is always important to pre-measure your existing seat belt and inspect how it mounts and check if length will be sufficient.
This is a stand alone seat belt. It will not connect to any existing wiring harnesses, brake systems, or sensors designed for your car.


This seat belt was NOT designed for your car. It will not look or fit like the original. It is generic by design in order for maximum cross-compatibility.


This seat belt has different dimensions and possibly a different mount than your original seat belt. Worst case scenario be prepared to drill/construct new mounts.


If you are not comfortable installing replacement aftermarket seat belts on your own, professional installation is recommended.

Most Importantly:
If you have any questions about our seat belts please give us a call.
Hardware Kits Option:
Our Hardware kits are NOT included with our seatbelts but are available as an add-on if you need nuts, bolts & washers for a custom or brand new install. "L" brackets will be necessary if your current set-up does not already have provisions to mount your retractor upright. Select Hardware option above when adding Seat Belts to cart.
&nbsp&nbsp&nbsp&nbsp&nbsp&nbsp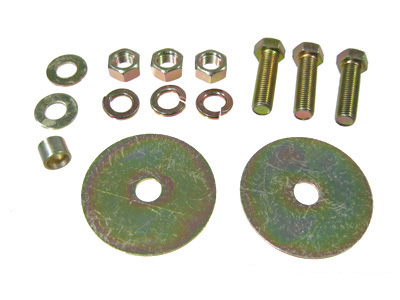 Customer Reviews.
See what other customers are saying about this product.

If you have bought this item click

"Let others know you bought the item."

to get Verified Buyer badge.

--row-fluid-->