7 Panel Swatches:
Read our Swatch Disclaimer:
Color Swatch Disclaimer:
Color swatches displayed on your monitor will vary depending on each individuals monitor settings.

We strive to match colors displayed online to the actual webbing as accurately as possible; however, if you have any concerns about color-matching please call to request up to 8 free color swatches.


Bulk Pricing
| | |
| --- | --- |
| Order Quantity | Price |
| 10 Or More | 52.95 each |
| 25 Or More | 50.95 each |
Mount Retractor Upright.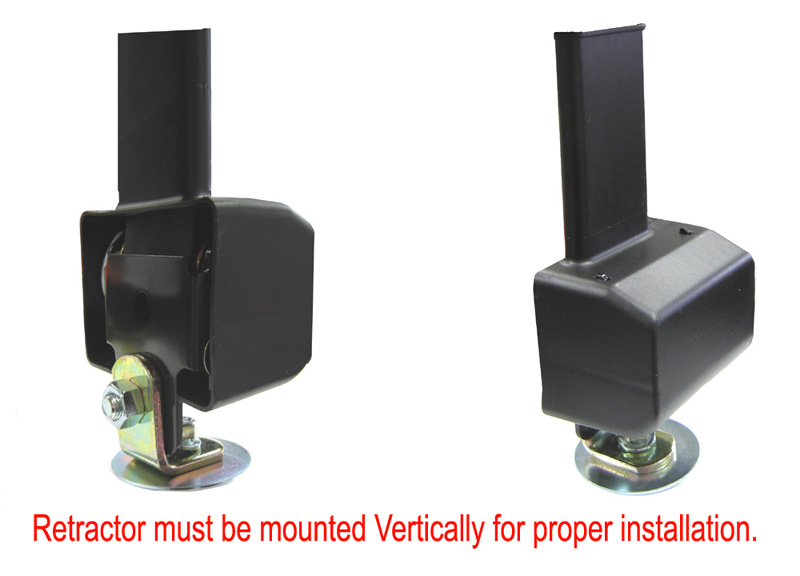 Retractor MUST mount in a upright position.
Our Seat Belt Retracting Mechanism
MUST
mount vertically. A tilting retractor will not function properly and can result in serious injury or death. Retractor must mount either on floor (mount upright with"L" Bracket) or can be mounted on door pillar if mount already exist. Do not mount retractor on ceiling, body quarter panels, inside seats, attached behind seat, or feeding through seats.
Measure your Seat Belts.
Measure the length of your retractor side.
Measure the total length retractable side of your seat belt and compare length before placing an order. We list the maximum extended length of our belts for your reference. If you require a longer seat belt we may be able to accommodate your request. Call for details.
Buckles come in different lengths. Measure you buckle/receiver before placing an order.
2 Point Retractable Lap Belt With GM Push Button
Metal Push Button Seat Belts feature a metal buckle with GM logo on the button. Automatic-Locking Retractor fully retracts webbing when not in use. HL205P Seat Belt includes a removable plastic support sleeve to keep your buckle easily accessible. Avoid digging between the seat and center hump. 12" plastic sleeve comes pre-mounted but can be removed for installations where you must slide the buckle end through a bench seat. Seat belt mounts on either driver or passenger side of your vehicle. All our belts come with a 1 year warranty against workmanship or defects. Meets or exceeds all federal safety regulations. All of our seat belts are MADE IN THE USA, with foreign and domestic parts.
- Retracting clip side is 53 Inches maximum length.
- Buckle side is 12 Inches, and includes support sleeve.
- Seat Belt is interchangeable, left or right side.

Product Specs:
The retractable clip side extends a maximum 53 inches.
Plastic buckle side is 12 inches long.
Webbing measures 1 7/8" wide.
Buckle measures roughly 2 1/2" long X 3" wide.
Clip measures roughly 2 1/2" long X 2 1/2" wide.
Quantity: Each Seat Belt is sold individually and mounts on either driver or passenger side.
1-year, unlimited-mileage warranty.
Belts are MADE IN THE USA

(with domestic & foreign components)

.
Federally compliant.SAE #J386, FMVSS #209 & FMVSS #302.
Seat Belt Colors & Availability:
► Black, Dark Blue/Navy, Grey, Maroon, Red, and Tan seat belts come with matching plastic housing and stitching.
►
All other color seat belts will come with black plastic housing and stitching.
► Black, Dark Blue/Navy, Grey, Maroon, Red, and Tan seat belts are in stock. Please allow 2-3 day production time on all other colors.
Additional Images
--row-fluid-->
--row-fluid-->
Aftermarket Seat Belt Installation:
This product is an Aftermarket seat belt and is NOT an original factory replacement part for any car.
It may not mount exactly the same way as your OEM factory seat belt.
Often installation can be as simple as unbolting your old seat belt and replacing it with our new aftermarket unit. However- it is always important to pre-measure your existing seat belt and inspect how it mounts and check if length will be sufficient.
This is a stand alone seat belt. It will not connect to any existing wiring harnesses, brake systems, or sensors designed for your car.


This seat belt was NOT designed for your car. It will not look or fit like the original. It is generic by design in order for maximum cross-compatibility.


This seat belt has different dimensions and possibly a different mount than your original seat belt. Worst case scenario be prepared to drill/construct new mounts.


If you are not comfortable installing replacement aftermarket seat belts on your own, professional installation is recommended.

Most Importantly:
If you have any questions about our seat belts please give us a call.
Hardware Kits Option:
Our Hardware kits are NOT included with our seatbelts but are available as an add-on if you need nuts, bolts & washers for a custom or brand new install. "L" brackets will be necessary if your current set-up does not already have provisions to mount your retractor upright. Select Hardware option above when adding Seat Belts to cart.
&nbsp&nbsp&nbsp&nbsp&nbsp&nbsp
&nbsp&nbsp&nbsp&nbsp&nbsp&nbsp
Customer Reviews.
See what other customers are saying about this product.

If you have bought this item click

"Let others know you bought the item."

to get Verified Buyer badge.

--row-fluid-->