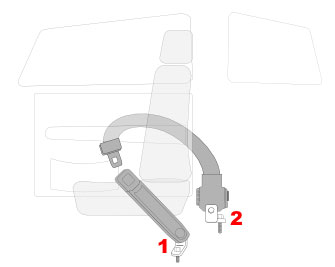 A Two-Point Retractable Lap Seat Belt has 2 mounting positions, one on each side of the seat belt. The retractor side of the safety belt self winds when not in use. Our Automatic-Locking Retractable seat belts offer ease of use by not having to adjust the seat belts to fit different passengers or drivers. The opposing buckle side generally stays the same length.

Our retractable Two-Point Lap Safety Belts are available in a number of different colors and styles of latching mechanisms. These retractable two point lap seat belts can fit numerous applications with little or no modifications to your vehicle. Two point lap seat belts are typically the minimum required safety belt in many cars and trucks manufactured before 1967. Check with your local DMV for minimum safety belt requirements.

All our retractable seat belts are assembled**, sewn, tested and finished in the USA and are federally compliant and meet or exceed strict federal safety regulations such as FMVSS209 & SAE J386 .