Three Point Lap & Shoulder Seat Belts
What is a 3 Point Seat Belt?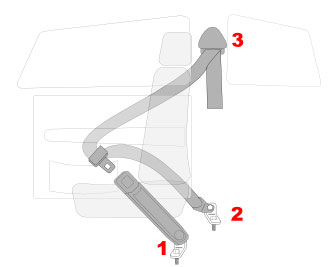 A 3-Point Seat Belt is a safety harness with 3 mounting positions. The seat belt is built in a "Y" shaped configuration, and resembles a lap seat belts with the addition of a Shoulder Harness. A 3-Point Safety Belt helps restrain the passengers chest & shoulder (upper body) in a collision.

Our Adjustable 3 Point Seat Belts do not wind or retract. Seat belt length can be set to fit numerous passengers by adjusting the metal slide underneath the shoulder mount. Seat Belt Clip slides up/down webbing for a snug fit. Since they do not include a retactor, many people find Adjustable 3 Point Safety Belts more economical and practical for applications where there is no room to mount a retractor housing.

All our seat belts are assembled**, sewn, tested and finished in the USA and are federally compliant and meet or exceed strict federal safety regulations such as FMVSS209 & SAE J386 .